Closed Comb
Straight Cut
Three-piece Safety Razor
Honorably Designed and Made in Germany.
Delivery time:
Available (3 to 7 business days)
Free shipping from 75 EUR
Material surface: Bright chrome / Matte chrome
Packaging: Leather Case / Cardboard box
Packaging size: 123x70x28
Product weight (with packaging): 108
Product measurements: 85x41x25
Product weight: 45
Materials
Aluminum handle, galvanized surface, matt chrome-plated, die-casted zinc razor head, galvanized Surfaces, bright chrome-plated. Black cow leather case and 10 Stainless Steel razor blades.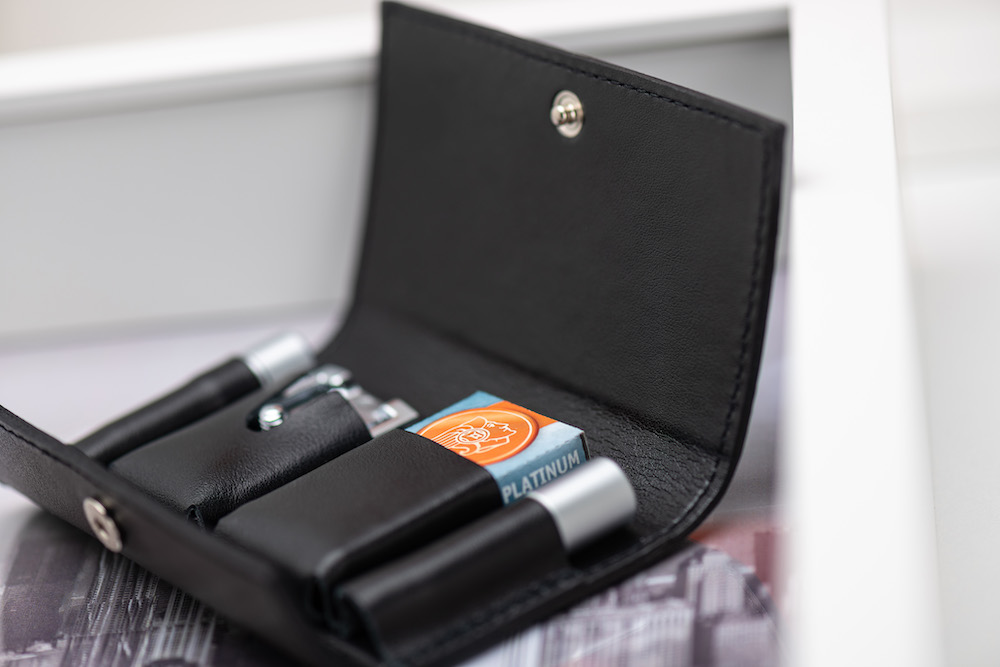 Do you also want to look dashing when travelling? Then you should take a look at the MERKUR 46C shaving set. The Model 46C 3-piece travel razor is a small, lightweight safety razor that easily unscrews for quick transportation or storage. The handle disassembles into two parts, the iconic MERKUR head is at the bottom, resulting in a very compact package when all pieces are slotted into their dedicated places in the black securable kit.
In addition to the slots for the handles and head, the case accepts a supply of your preferred DE blades. Simply stow it in the elegant space-saving leather case together with 10 MERKUR SUPER blades.